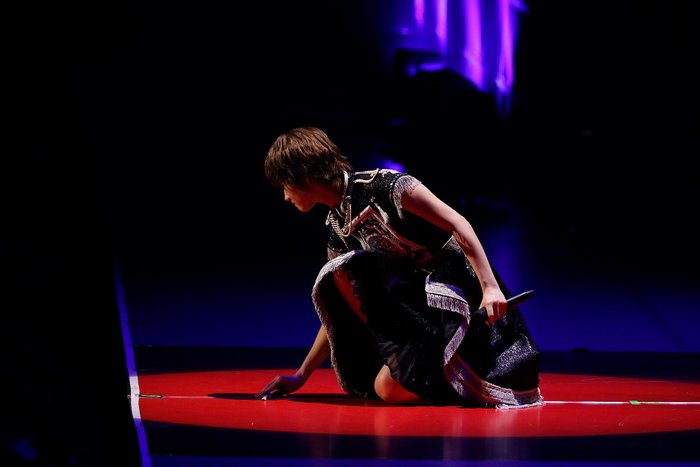 On 4 December 2018, the graduation concert "Wakatsuki Yumi Graduation Ceremony" for the founding member and pillar of Nogizaka46 Wakatsuki Yumi took place in the Nippon Budokan Arena, Tokyo.
On 1 October 2018, Wakatsuki Yumi opened her blog with the words: "I, Wakatsuki Yumi, will graduate from Nogizaka46. I want to leave with the things I learned from Nogizaka46 for my next dream." Two months later Wakatsuki Yumi stands on her graduation stage for the last time as a member of Nogizaka46. "Everyone who supported me, I had so much fun as an idol, even if I am no longer an idol, I will always give my best. You fans are the best. The members are the best! The staff too! That's it! Nogizaka46 is the best! Thank you for loving this idol!" Afterwards she said thank you with a letter, see link below.
Wakatsuki Yumi produced many unique characters during her time with Nogizaka46 and "Because there are so many characters!" a project "Songs I want to sing again before graduation – Best 5" was integrated into the ceremony to say goodbye to all these characters. That evening ended her seven year idol career, but she wants to make her dream as an actress come true and climb this steep slope.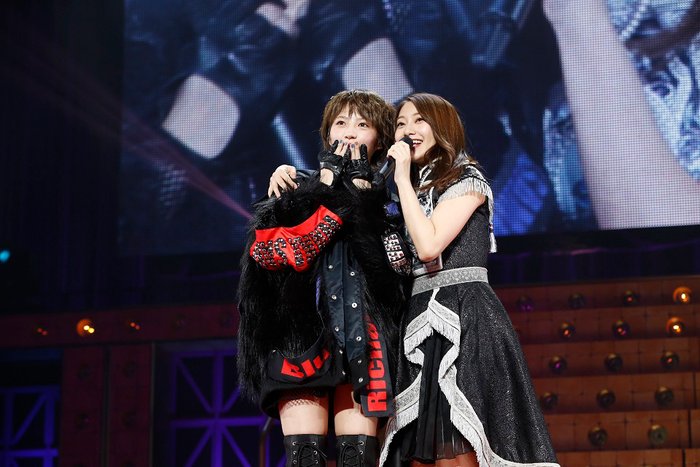 No. 5: Wakatsuki Yumi und Sakurai Reika "Maa ii ka?"
The fifth place is the song of the Unit of Akimoto Manatsu and Shiraishi Mai "Maa ii ka?" from the 19th single. During the "Nogizaka46 Manatsu no Zenkoku Tour 2018" this song was shown at the "Jikocho Unit Corner", where the Nogizaka46 members are responsible for the presentation of the songs, by Wakatsuki Yumi together with Sakurai Reika, who was also responsible for the presentation;
In the main TV show of Nogizaka46 (Nogizaka46 Under Construction) the relationship between these two close friends was regularly discussed and teased, so that the couple of fans and members was affectionately called "Re-Katsuki".
Wakatsuki Yumi and Sakurai Reika showed "Maa ii ka?" again and Wakatsuki said during the song: "You know, I'm graduating! In the end I thought it was necessary to say Reika something that was only meant for her. Had I not met Reika, I would have been lost … because Reika is such a good person … Reika thanks for the seven years … Don't be sad!" When both wanted to leave the stage, a "Re-Katsuki" rose from the ranks of the fans and Nogizaka members.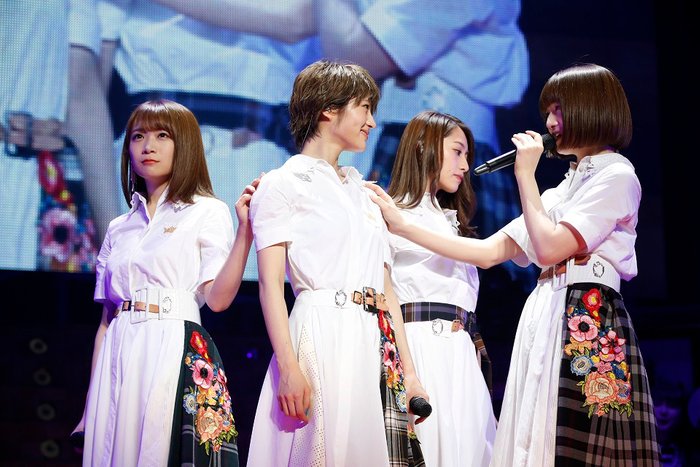 No. 4: Girls' School Quartet "Kokuhaku no Junban"
The Nogizaka46 "Girls' School Quartet" consists of the members Wakatsuki Yumi, Akimoto Manatsu, Sakurai Reika and Nakada Kana.
The fourth place goes to "Kokuhaku no Junban" (Order of Confession), a B-side of the 22nd single "Kaerimichi wa Toomawari Shitaku Naru" by Nogizaka46 and the last single in which Wakatsuki Yumi participated. Wakatsuki: "The Girls' School Quartet did a lot together during our time together. That's why I like this song because it reflects that. I haven't had a chance to present the song live to you yet, so I thought there is no better opportunity than today" and the four Nogizaka46 members presented the song for the first and last time.
During the moderation after the song Takayama Kazumi told what she will miss soon. "Four people usually sit at each table in the dressing room. It's going to get pretty lonely" and Akimoto "You know every bag the members bought. And then when I see a bag 'Oh, that's Wakatsuki's place…' but I won't find one anymore. I'll be lonely!" When talking about the video production, Akimoto, Sakurai and Nakada said simultaneously, "It was terrible!" and Akimoto said, "I didn't know anything about her graduation during the shoot. Nakada: "The story was strange, about leaving school," she also admitted that she didn't know anything about Wakatsuki's graduation. Wakatsuki explained. "I wanted to tell everyone the truth in the end so that it wouldn't be so sad, but Manatsu was already crying" and Akimoto: "I noticed that something was wrong and I couldn't hold my tears…". At the end Akimoto Manatsu explained with a smile: "I am glad that the video has turned out so good".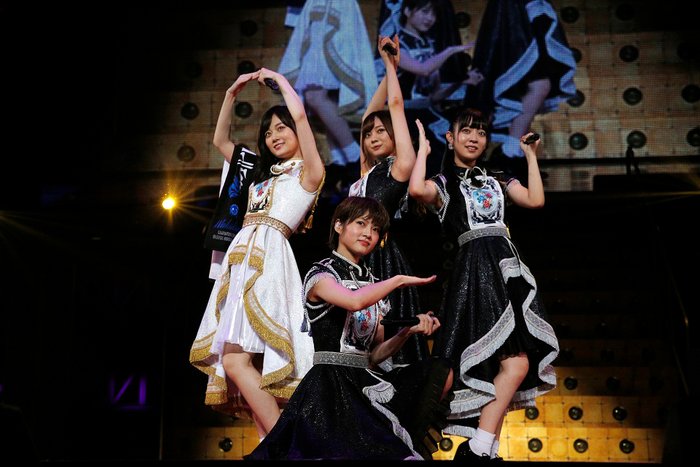 No. 3: Wakasama Gundan "Shitsuren wo Shoji Hito"
Wakasama Gundan: Yamashita Mizuki (spoon), Wakatsuki Yumi (chopsticks), Umezawa Minami (knife) and Sakaguchi Tamami (fork)
The Wakasama Gundan consists of Wakatsuki Yumi and the three members of the third generation of Nogizaka46 Yamashita Mizuki, Umezawa Minami and Sakaguchi Tamami. As third place Wakatsuki Yumi chose the song of her Unit "Shitsuren wo Shoji Hito" and gave the three a message during the song and her words moved the three to tears. "We, the Wakasama Gundan, will remember this day. Thank you for coming and supporting us today. Thank you very much! ( To Yamashita ) Mizuki, you will one day be part of the core of Nogizaka. (To Umezawa) Ume, you will be a flower of Nogizaka. (To Sakaguchi) Tamako, you yourself are the future of Nogizaka. I love you three!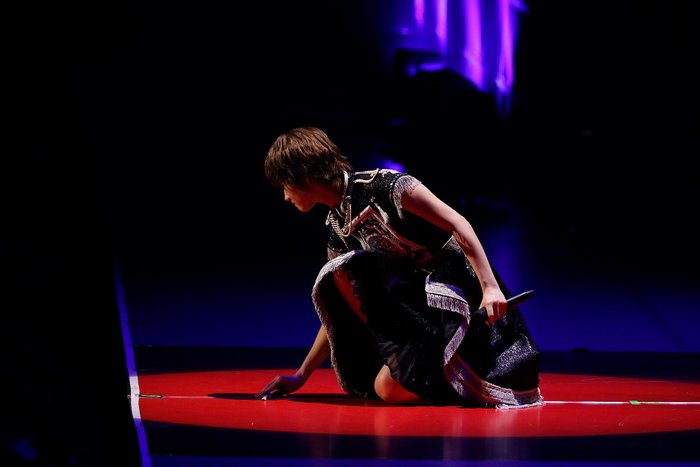 Hashi-kun one last time.
At the end Wakatsuki Yumi said goodbye to "Hashi-kun" with her famous "Hashi-kun" interlude and put the chopsticks on the floor of the stage.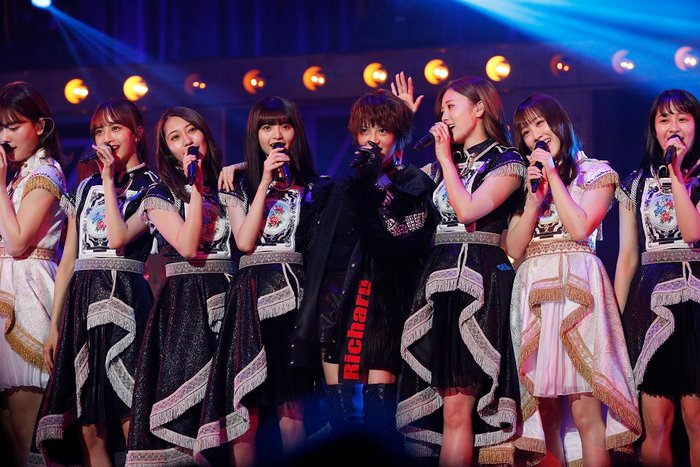 No. 2: Wakatsuki Yumi & Ito Junna & Higuchi Hina "Teitaion no KISU"
"Teitaion no KISU" placed Wakatsuki Yumi in second place. "Teitaion no KISU" is actually a hard rock solo song by Ikuta Erika in a black sexy costume with mini skirt. The Wakatsuki Yumi version together with Ito Junna and Higuchi Hina was created like "Maa ii ka?" for the "Jikocho Unit Corner" of the "Nogizaka46 Manatsu no Zenkoku Tour 2018" from a remark of Sakurai Reika and Ikuta Erika "I hope Waka sings the song once", and of which Wakatsuki said: "The song is extremely good and the result extremely convincing! She herself showed a very black aura and presented an extremely sexy performance accompanied by Ito Junna and Higuchi Hina in also very sexy costumes. Cool! – Too Cool! So that Shiraishi Mai and Ikuta Erika, who watched the show, went into ecstasy. But at the end Wakatsuki Yumi called: "With this song I shed my masculinity! Because I am a girl", threw herself in pose and explained, "But – Handsome".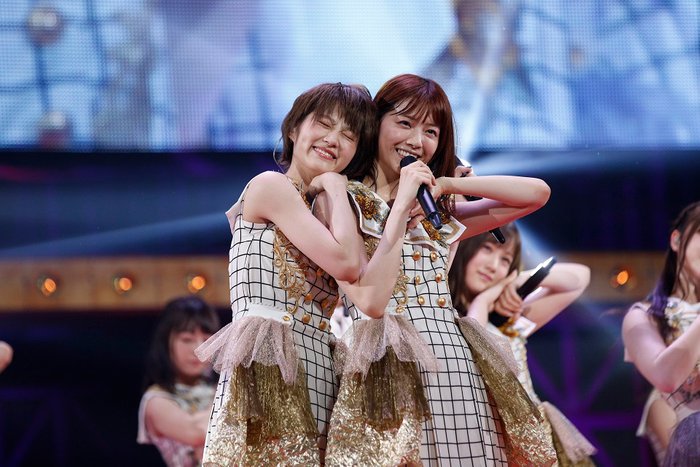 No. 1. Wakatsuki Yumi & Sakurai Reika & Nishino Nanase "Rewind Ano Hi"
"Rewind Ano Hi" is the last song of the "1994 Group" consisting of "Wakatsuki Yumi, Sakurai Reika and Nishino Nanase". Wakatsuki about the song: "It's a song I love very much. When I came to Nogizaka I wanted to sing songs like this. Later, when I sang the song with these two members, I realized how much I love the song. And that's why I wanted to sing it again. It wasn't easy for the three of us to present the song because it says that one day one of us will stand in front of us. But I am happy to have this song. I think I will listen to it for a long time."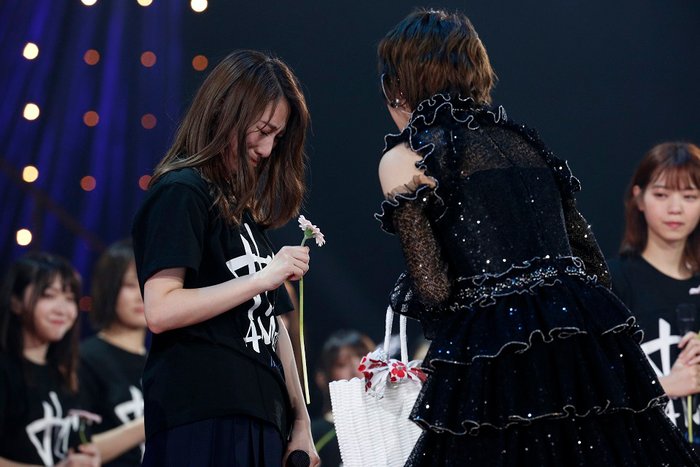 Encore 1: Ushinaitakunai kara
At the beginning of the song Sakurei was still herself captain of Nogizaka46 but some couldn't hold their tears. In the middle of the song Wakatsuki Yumi presented each member with a flower, made eye contact and thanked her. When Wakatsuki thanked Sakurei last and handed over a flower, the facade of Sakurei collapsed and the tears could no longer be hold as Sakurei remembered the many moments of their friendship.
Encore 2: Dankeschön
For the last song " Dankeschön" Wakatsuki Yumi cheered on the fans and members with " The last one, let and have fun!" But Sakurei was a pitiful state with hands on her mouth. When Shiraishi Mai noticed this, she pushed Sakurei next to Wakatsuki, who joyfully presented her last song with Nogizaka46. One last "Wakachuki" moment and Sakurei found her voice and smile again.
Setlist:
– Overture
– Dance Opening Act
M1: Ookami ni Kuchibue wo
M2: Oto ga Denai Guitar
– Songs, die ich zum Abschied nochmals singen möchte – Best 5
M3: Nr. 5: Maa ii ka?
– MC & VTR
M4: Nr. 4: Kokuhaku no Junban
– MC
M5: Border
– MC
M6: Nr. 3 Shitsuren wo Shoji Hito
– MC & VTR
M7: Nr. 2: Teitaion no KISU
– MC & VTR
M8: Nr. 1: Rewind Ano Hi
– MC
M9: Aitakatta Kamoshirenai
M10: Girls Rule
M11: Romantic Ikayaki
M12: Seifuku no Manekin
M13: Kaerimichi wa Toomawari Shitaku Naru
EN1: Ushinaitakunai kara
EN2: Dankeschön
ModelPress Links:
https://mdpr.jp/music/1808485
https://mdpr.jp/music/1808480
https://mdpr.jp/music/1808479
https://mdpr.jp/music/1808409(Letter)